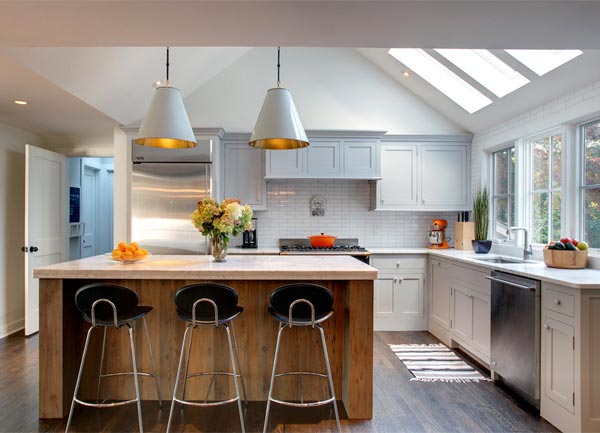 Top 10 Kitchen Design Terms Explained
The everyday design terms we use for kitchen items can sound a little foreign if you are hearing them for the first time, so we've complied a few to help you navigate your way around your kitchen quote.
Cornice – Is the finishing detail to the top part of your wall units. Cornice can vary in decoration depending on the style of the kitchen.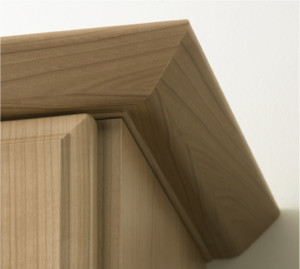 Pelmet – The term pelmet is used to describe the finishing detail to the bottom of wall units. If you have chosen to go with lighting on your wall units which will illuminate the work surface on your counter, the lighting will be housed behind the pelmet. On some more traditional kitchen designs we use a window pelmet. This is for decoration and also to conceal the top of window blind.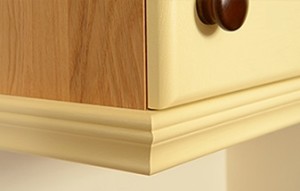 Kicker/Plinth – This is normally a recessed piece of wood that runs under the presses to the floor. The plinth protects the cabinet doors. It is generally stepped back acting as toe-space for the user of the kitchen.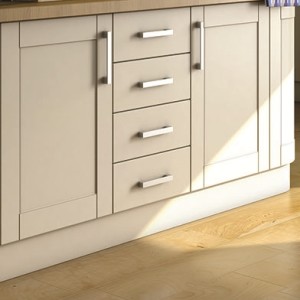 End Panel – The end panel is the finishing element to an end run of top units or base units. This can either be plain or decorative.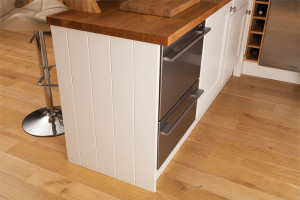 Recessed Drainer – Where a granite or quartz worktop is  the chosen counter-top for your kitchen, a recessed drainer is recommended. As the name suggests this is a drainer that is recessed into the surface of the counter-top.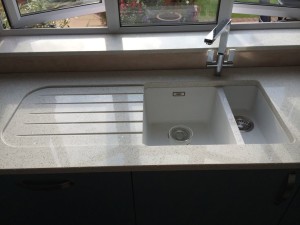 Le Mans Carousel – This is a great storage item and makes fantastic use of space in those hard to reach corners. Both the top and bottom tray move independently of each other. These swivel in and out of the press with great ease.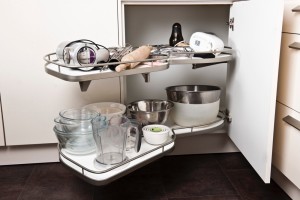 Magic Corner – As the name suggests this is a corner space saving item. The magic corner is attached to the back of the door and when opening both sections move together, with the internal tray remaining within the unit. This is super for those difficult to reach corners.
Under Counter Larder – Where space is at a premium this under counter mini larder is a great way to store everyday items. With an under counter larder you will never have to wonder what is on that bottom shelf any longer, as this storage item glides into the unit seamlessly.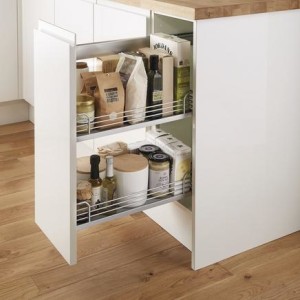 Peg Drawer – This is another fabulous addition to any kitchen. The peg drawer is a base inserted into a large drawer and you have the flexibility to position the pegs where you wish. This allows for easy access to plates, bowls, side plates etc and the pegs keep the delph securely in place.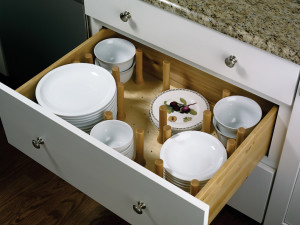 Soft Close – These innovative hinges slow down the closing of kitchen cabinet doors, enabling them to close softly so no more banging of the kitchen cupboards.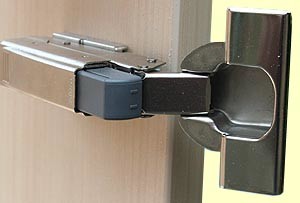 We hope you found this blog useful and insightful into the terms of kitchen design.