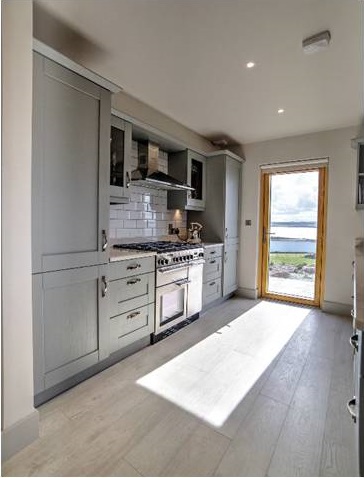 Solid Shaker Painted Kitchen is a welcome addition to this idyllic Holiday retreat.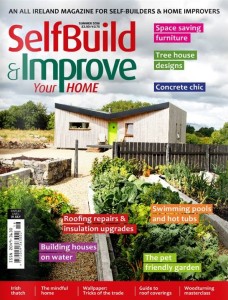 We are delighted to be asked to feature in the latest edition of Ireland's leading self-build magazine SelfBuild Ireland Our clients approached us with a specific brief to design a modern kitchen that would enhance the vision they had for their new holiday home. This vision was a seaside cottage feel first, with reflections of yellow gorse as seen in spring & other elemental colours from the landscape so blues, greens, yellow & white mix in every room.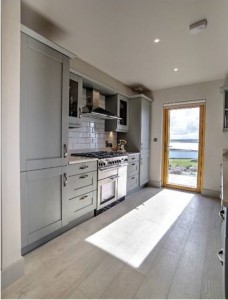 With this in mind the Farrow & Ball Manor House Grey was the colour of choice for this bespoke solid painted kitchen. Keeping the shapes simple with the shaker style this kitchen was to tie the original footprint of the house to this cleverly designed extension.  With little design features including hammered pewter handles to add a touch of class to the doors, the aim was to maximise the storage capabilities of this kitchen but also be an aesthetically pleasing addition to compliment this expansive living space.
Finishing touches like the silestone quartz worktop which included the sink in the same material & the copper Ottocento tap were extra additions but as our client says " I think you can go out on a limb on one or two things" They certainly do add to the final look of this impressive kitchen.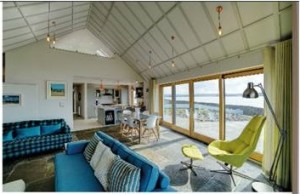 But we didn't stop there! Our clients were looking for some bespoke storage. As this was high on the list of priorities we set about designing the maximum storage that could be fitted to the spaces provided within this home. The hallway was the 1st port of call with floor to ceiling units that from the outside are unassuming flat panel handless style, while the interior is meticulously designed to utilise every millimeter of space for the needs of the users of the holiday home. We accommodated everything from surfboards, golf clubs, hiking boots to ironing boards & the mop & pan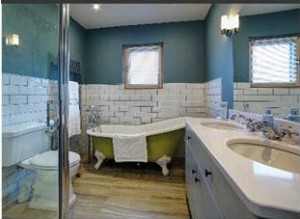 The bedrooms where again designed to provide the necessary storage required for a holiday home without taking form the look & feel of the interior design of the rooms. While the vanities were carefully calculated to provide storage but also a very calm, understated finish to the rooms & continue the theme established throughout the rest of the home.
To say we as a company are happy with the finished look is an understatement but to have clients who are ecstatic with their end results & refer us to their friends & neighbors well that's just priceless.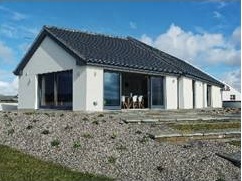 See feature article on page 98 with further images of their finished project.